Search Engine Marketing and Better Online Presence
In making your website profitable, a full Search Engine Marketing (SEM) rollout is crucial. IPCS can help you deal with the fundamentals of SEM to ensure that your efforts to expand your business to the virtual world will not go to waste.
We offer a start-to-end assistance on SEM for small and large-scale businesses. To ensure that we begin our steps with the right foot, we offer preliminary search engine and keyword analysis to our clients. From there, we can collaboratively plan the right mixture of Search Engine Marketing techniques that we will use for your campaign.
SEO: A Popular SEM Technique
Enterprise owners who are still starting in the online business world may not be aware that Search Engine Optimization or SEO is actually a Search Engine Marketing technique. SEO is the organic way of placing your website among the top search results of various search engines.
To help you achieve successful SEO, we at IPCS are offering SEO analysis and consultancy at a far lesser price. For more details on this service, visit this page: http://ipcsdesign.com/newsite/web-solutions/search-engine-optimization/
Paid Listing and Pay per Click
Other popular SEM techniques nowadays are Paid Listing and Pay per Click. IPCS provides services that will help your website make the most out of both techniques.
The difference between Paid Listing and Pay per Click is simple: with the former, you will have to pay for the each search result slot that is taken up by your website; with the latter, you pay the search engine company for each click that your website listing gains. Besides this difference, the principle behind these two techniques is pretty much the same. Search engines will open auctions for their search result page listing. You will bid for a keyword that best represents your business, products, and services.
To determine whether your business will benefit more from Paid Listing or from Pay per Click, we can provide you with a comprehensive traffic and lead conversion analysis for better strategy building. More information on our Pay per Click service is available at http://ipcsdesign.com/newsite/web-solutions/pay-per-click/.
Measurable SEM Results
IPCS guarantees positive and measurable Search Engine Marketing results. If you choose to partner with us, we will ensure that we keep you updated on the progress of your SEM campaign. We will regularly send you reports that indicate results of our collective effort.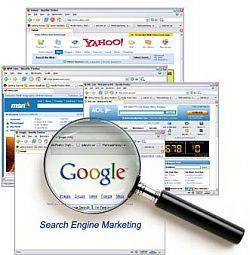 We will provide you with a traffic analysis to determine if your SEM efforts really lead to increased number of visitors. Statistical comparisons between your website traffic before and after starting our project will be periodically presented to you for further strategic changes to ensure maximum results.
We will also do a lead conversion analysis which will show how much of your visitors are turned into actual customers. Search Engine Marketing only promises increased number of website visitors. However, knowing how much of these traffic leads are converted into sales will give you an idea on which SEM steps you will take next.
At IPCS, the success of our clients' business in the Internet market is our best interest. Hence, we do not just help you increase your website traffic but we also help you find ways to increase your conversion rate. After all, the goal of marketing is to improve profit through creating awareness for your business, your brand, your products, and your services.
Search Engine Marketing is a huge part of your business growth in the online market. To get the most out of it, you should be able to combine your SEM efforts with other methods of making your online presence profitable. Let IPCS help you integrate SEM with your entire marketing plan.
For inquiries on our Search Engine Marketing services or request for quotes, drop us a message by clicking Here.