Ace WordPress Development
At IPCS, we offer WordPress Development to clients who prefer the popular open source content management system. Our team is composed of WordPress experts in Cleveland Ohio who have worked with several clients from within and outside the city.
Our expertise range from simple WordPress theme design to more complicated WordPress plugin creation. For the past years, we have already developed customized plugins including, but not limited to, e-Commerce and SEO extensions.
We have already managed WordPress Development projects with small and large businesses from North Olmsted, Brooklyn, Bay Village, and Avon.
Why WordPress?
The fact that WordPress has a global community behind it makes the CMS an ideal choice for enterprise owners who would like to speed up the success of their digital presence. A number of plugins and modules have already been developed by open source developers which make a good starting point for developing customized plugins that suits your needs.
At IPCS, 100 percent project turnover is one of our priorities. With WordPress Development, taking control over your business website can be easier. WordPress has an intuitive interface and a comprehensive documentation which makes it easy to use. If you need to tweak some details of your WordPress theme, you can do so even after we have fully turned over your website to you. We provide intensive WordPress tutorials and guides to clients for a more seamless integration.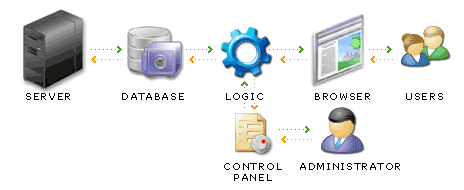 Using WordPress also makes going mobile and global easier for your business. Being in Ohio does not mean that your market reach can just go as far as North Olmsted, Brooklyn, Bay Village, and Avon, etc. Neither does it mean that we can only set your online market reach for only as far as Cleveland Ohio, where we are based. Through our WordPress Development service, you can exhaust the platform's mobile- and global-readiness to expand your online network and consequently your business reach.
Moreover, today's most popular search engine, Google, indexes WordPress-based website well. This means that WordPress can be easily integrated with our Search Engine Optimization service. You can get better search engine rankings and attract traffic in no time. WordPress also supports responsive web design. Developing a website for multiple screens is easier with this CMS.
Our WordPress Services
Whether you simply need help in modifying a WordPress theme to better suit your brand or you want to start a full-scale WordPress-based website, IPCS is here to help.
• WordPress Theme. We can design and build themes that are appealing to your target market. If you have already found one from the wide range of already available themes today but have trouble installing it, we can troubleshoot for you. We can also modify your chosen theme to better present your web content to site visitors.
• Customized Plugin Development. If you need help in building certain web functionalities to accommodate your workflow, we can do that for you from scratch. We can also assist you with plugin installation, trouble-shooting, and modification. Our
• Full-scale WordPress Development. We can start with brainstorming a plan for developing a whole new website that will be housed in WordPress. If you already have a design in mind, we can transform a picture into a fully functional WordPress website. We will guide you all throughout the process of making your ideas happen. If you already have a website that is hosted in another CMS, we can port it to WordPress if you feel the need to.
Whatever your WordPress Development need is, IPCS can excellently do it.
No need to be in Cleveland Ohio to work with us. Reach us by clicking Here to discuss how we can step up your digital success.